Hey there everyone, I have something a little different for you all today, as I normally review polish, today I am reviewing
Peacock Cosmetics
natural mineral eye shadow pigments in Passion Pit, Milky Way, and Midnight Sky. I had another named Sand Stone, and unfortunately it had an untimely demise before I was able to try it out. Sand Stone took a horrible tumble off of my counter top and rolled into one of my heating vents that my lovely children had taken the cover off of to retrieve a pencil or something like that, unfortunately due to the size and rolling ability of the pigment container I was not able to retrieve it :( But I can tell you that I'm super bummed because I really like the look of that color! Anyway, try not to make fun of my make up applying skills, like I said I don't normally due eye shadow pigments, but I am trying to branch out. Also, don't judge me I may have been playing around a bit with the last pigment that I'm showing you :) Peacock Cosmetics is a fairly new shop owned by a lovely lady named Julie out of Ohio. She is looking at expanding her creativity into nail polish and facial powder! I can't wait to see what else she creates!
Alright to start this off I have
Passion Pit
, which Julie over at Peacock Cosmetics describes as a dark red with gold glitter. Personally I think it looks more copper, and seems to have a holographic glitter to it. I really liked this pigment! Below you will be able to see the pigment as a loose powder and then with water added to it. Now like most loose mica pigments they are kind of messy and you do need to be careful, because they do tend to "drop" onto other parts of the face off of your brush, but I didn't have that issue with this color.
This was taken with the flash on and I added it because you can really see the sparkle in there. The upper is with water added to make more of a paste and the lower is just the powder applied with an eye shadow sponge.
This is a more color accurate photo of this pigment. And again you can really see the sparkle in there. I absolutely love this color, especially after adding water to it.
Right eye
Here I have the powder applied to my lower lid using the eye shadow sponge, to my upper using an eye shadow brush, and then I took some wet on my eye liner brush and lined my top lid.
Left eye
On this side I covered the whole lower lid with the water added cream/paste. And the effect is phenomenal in my opinion. It really brightens up the color and brings out the lovely sparkle.
Next up is
Milky Way
, which Julie describes as a light cream color with gold glitter. I completely agree with her description on this one. It's a very delicate color and I enjoyed wearing this pigment while I was out applying for new jobs! It lasted all day long! I was so impressed with how well it still looked after a long day applying for jobs, wrangling my kids, and doing some shopping!
Here you can see on my right eye I have the cream/paste on and on the left I have the powder applied with a brush.
Here you can see the difference a little bit better. Although since this is such a light color it's not as dramatic of a difference as the darker colors. Although it is still stunning either way.
Left eye
Here you can see the very subtle and natural looking cream color that I applied with a brush to my upper and lower lid.
Right eye
Here I have applied the cream/paste version to my lower lid and then took the powder to my upper lid with a brush. I absolutely love it this way.
Here you can see I added a bit of liner, I used Peacock Cosmetics Midnight Sky to do this. (More on Midnight Sky below) I really love this look and it was very easily achieved!
This is me getting ready to go apply for jobs and enjoy my day! Although I did have to put my glasses on before leaving the house. It just looks better to take them off for pictures :)
Here is a picture from Peacock Cosmetics of
Sand Stone
, even though I can't show it to you on me, I still wanted to to show it to you because it's a lovely natural color, also. Sand Stone is a natural light tan with golden glitter to it. I really wish I would have been able to show you all this color also!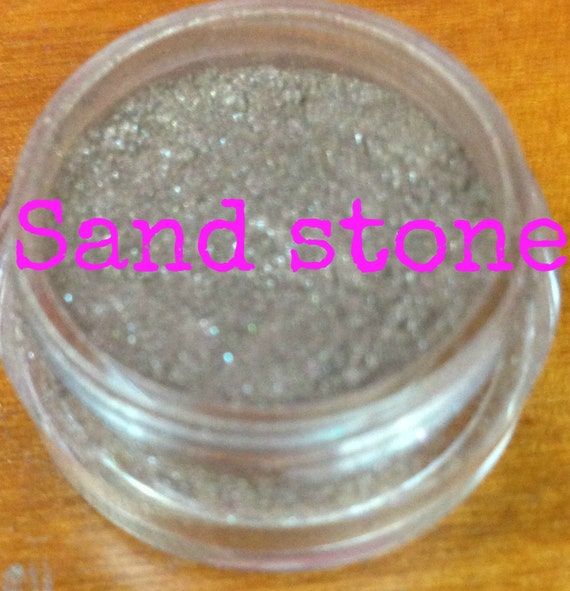 Now last but not least I have
Midnight Sky
, which described by Julie is, a black matte base with silver holographic glitter. And again I agree with her completely it is a very pigmented black matte shadow with some holographic silver glitter in there. Normally this isn't a color I would have chosen for me, but Julie threw it in with the other colors, so I couldn't not check it out. I have to say that I really love using it as a liner. It stays on so well compared to regular eye liners. But I did play with this one a bit so here are the reasons for the "don't judge" comment earlier :)
Left eye
You see I only have on the cream/paste effect here and tried to do the fun retro lash thing, but it didn't work out so well :)
Right eye
Here I started with my lower lid and applied the powder using an eye shadow sponge then I swept over the top lid with a bit more powder on a brush to even and blend the look. Finally I used the cream/paste effect to line my lids.
Even though this is darker than I usually go, I could see me totally wearing it the way I have on the right side out on the town. It blended very well.
This is one of those colors that you would want to do your eyes before you did all your other make up though, just in case some of it "dropped" onto another area of your face. That way you could clean it off without having to redo your whole look. As it will streak and leave black marks until you properly clean it off.
I really enjoyed these pigments and I recommend any one who sees this to definitely check out Julies shop,
Peacock Cosmetics
on etsy. She has all kinds of colors blues, teals, purples, greens, and more. Julie was also kind enough to offer my readers a 10% off discount code: enchanting, good until December 31st, 2013. So go buy something and show her that we are here supporting her! I also, noticed a few other promo codes at her etsy store, there's one for free shipping with a $15 purchase and another for 10% off that expires on the 25th. But please if you purchase because you saw her products here I would appreciate you using the code, enchanting to receive your 10% off!
Thank you all for your time, I hope you enjoyed this post as much as I enjoyed creating it. Please come back again soon to see what else I have lined up for you. Have a wonderful day and don't forget to smile, you never know whose looking :)